Welcome! My name is Betty and I am the "B" behind "B's Garden Treasures." I live with my husband, Ron, in Geneva, NY which is in the heart of the Finger Lakes. I recently retired from my role as a Quality Manager for an international company, where I worked for over 20 years. Now I can spend more time doing what I love – working with flowers.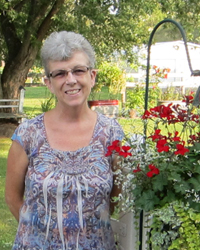 I've been an avid gardener most of my life and shared this love with my mother and now my daughter. I first learned about the art of pressing flowers in 2007 when I was the recipient of an original pressed flower picture. I contacted the artist and had many, many questions about the process. My first press was a telephone book covered with weights. It was so hard to resist the urge to "peek" before the several-week process of removing the moisture. By the time the flowers and leaves were dry, the original blossoms in my garden were long gone so I did not have the opportunity to correct my mistakes until the following season.

I discovered the Worldwide Pressed Flower Guild in 2009 when searching for classes on pressing techniques and quickly joined. This great non-profit organization promotes public education to unite pressed flower artists from around the world. I enjoy attending conferences, taking on-line classes and the fellowship offered through the on-line discussion groups where artists can ask for tips on anything related the flowers and pressed flower art. I now serve as the Guild's Public Relations Director. As a result of this wonderful organization of kindred spirits, my art has grown and I am continually challenged to try new methods, mediums and techniques. I especially enjoy creating complex landscapes using blue delphinium, onion membranes and/or pieces of leaves for the water; hydrangea, lily, rose petals and/or corn husks for the sky and pieces of leaves, banana peel and other botanicals for trees.

My current pressing method of choice is to sandwich my botanicals between highly absorbent desiccant paper layered with Viva paper towels and covered with patio bricks. This technique allows me to use my botanicals within 3-5 days. I also use a microwave press, a pegboard press and a food dehydrator to prepare my flowers, leaves and other botanicals for my art. These more modern pressing techniques result in more vivid colors and a much higher quality of pressed materials. I love sharing my art with others and enjoy teaching classes and workshops. I especially enjoy speaking at local garden clubs.

I hope you enjoy your visit to my site. And, if you have a chance, visit B's Garden Treasures at an upcoming show. See my show schedule under the Shows link. Please contact me if you have any questions or comments.